Environmental Report
We set targets and implement activities based on energy saving, recycling, and resource saving, which are key themes of our environmental policy.
As for energy saving, both Nagaoka Factory and Mitsuke Factory are working to improve production efficiency as much as possible although energy usage in our production activities tends to increase year by year as we aim to produce high value-added products.
For recycling, we promote the reuse of product cases. We are conducting this activity by examining a method of approach considering efficiency and profitability in response to the changing circumstances.
For resource saving, we are developing and improving new resource-saving tools and long-life tools through the development of manufacturing equipment and will strive to supply products that are recognized by more customers.

Energy Conservation Initiatives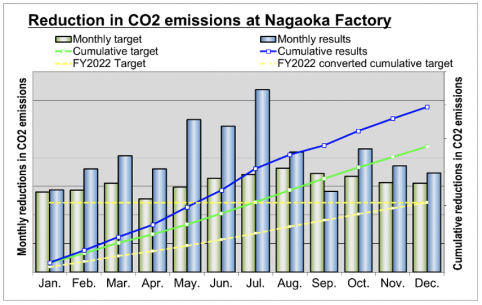 In FY2022, adopting CO2 emissions from energy sources as a new indicator, both factories engaged in energy saving activities with a target of reducing CO2 emissions from energy sources by 1% compared with FY2021. Nagaoka Factory reduced its CO2 emissions by the equivalent of 2.3% of FY2021 emissions through reductions in power consumption and efficiency improvements. Mitsuke Factory achieved a 1.3% reduction, which means that both factories achieved the target for FY2022.
It is essential that we implement energy-saving measures across all of our factories. Each department within our factories has established targets and is considering ways to develop highly efficient facilities, ensure efficient use of facilities, and improve further streamline operations. Ever since we began these activities, all employees have been making efforts to conserve energy, and it has led to positive results.
In addition, we are continuing to implement measures for ancillary facilities to our factories. We began introducing LED lighting in FY2014, and although we have had difficulty procuring lighting equipment recently, we are working to systematically replace the few existing lighting fixtures for those area used for special applications.
We will continue to engage in efficient production activities from a broad perspective.
Green Procurement Initiatives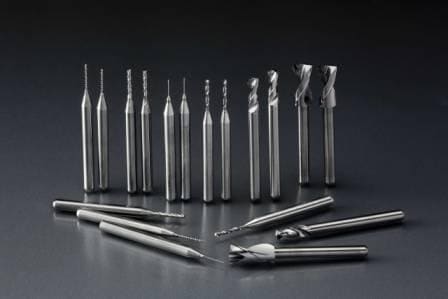 Providing customers with products that are friendly to the global environment and that have a lower environmental impact, we must actively use environmentally friendly materials and parts. To ensure the reliability of our products, we not only comply with the laws and regulations related to chemicals, which are increasingly demanded throughout the world, but we also follow our own Green Procurement Guidelines when purchasing materials and parts.
Information on the hazardous substances in products is shared among our Engineering Department, Material Purchase Department, and the relevant suppliers, who all work together to investigate and clarify the content of environmentally hazardous substances in all materials, parts, and packaging materials, etc. used in the manufacture of our cutting tools and linear motion bearings.
We will continue to strive for manufacturing that have less impact on the environment throughout the life cycle, from production to use and disposal.
We would appreciate your kind understanding and cooperation.
Environmental education initiatives
Our Environmental Management Department takes the lead in providing ongoing environmental education to all employees working in our factories, with the objective of raising environmental awareness and providing the relevant knowledge.
We have four levels of educational systems. The first level of education is our "new employee education" provided to new employment, followed by "general education" conducted on various themes every month to systematically raise the level of education of our employees. The third level of education is "basic education", which covers basic environmental issues and regulations related to business activities, which is in turn followed by "specialized education" which covers more specialized environmental education.
To improve the quality of our education, participants undergoing "general education" are asked to complete a survey, and the results are used as a reference for the selection of future themes and to improve the skill of our instructors.
These environmental education programs lead to the development of human resources who can maintain our corporate culture of "Love nature, Love people, Love work."

Outsourcing of recycling work to welfare facilities
Since 2007, we have been outsourcing part of the work required to recycle drill cases to local welfare facilities, and in 2014, this work was expanded to include the sorting of end mill caps. We position the work of recycling drill cases as specialized work and outsource the entire operation to one of our partner companies. However, this work is also done at welfare facilities to ensure an inclusive society for everyone.