Exhibition
JIMTOF 2018
Thank you so much for joining us on JIMTOF 2018.
We appreciate your taking time from your busy schedule to be with us.
If you have any questions regarding our products, please feel free to contact us anytime.
We look forward to your continued business.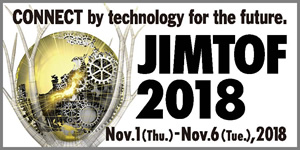 Date
Thu. Nov, 1st - Tue. Nov, 6th, 2018
9:00am - 5:00pm
Venue
Tokyo Big Sight
Booth No.
W1014, West Hall 1
Main Items
Tungsten Carbide End Mills UNIMAX Series
CESUS
UTSCOAT 4 Flute Highly Efficient Square for Stainless Steels
CBN-LBSF
CBN 2 Flute Long Neck Ball for Super Finishing
UDC Series
For Cemented Carbide and Hard Brittle Materials
HARDMAX Series
For Hard Materials
UTCOAT Series
Broad application range from Copper and Raw Materials to Hardened Steels(55HRC)
Digital measuring instruments
Booth
Booth
Booth
Seminar