Carbide End Mills
Tungsten Carbide End Mills UNIMAX Series
UNION TOOL's End Mills -UNIMAX Series- has a wide line-up with a range of diameters φ0.060mm-φ20mm. Especially a line-up of micro-diameter types (≤φ6mm) is rich and they are developed from PCB drill manufacturing technology. These high-precise cutting tools are produced on UNION TOOL's internally developed manufacturing and quality control equipment.
The UNIMAX Series is made from sintered tungsten carbide, with a cobalt binder, that is especially suited to the high speed CNC machining of high-hardness materials. Additionally, many series are coated to increase hardness, heat resistance, durability and lubricity. These high value-added tools offer the user increased tool life and better finished part quality.
Custom tooling designs for very specific applications are also offered. Please contact our global sales team to find out how the UNIMAX series can help your business.
"Made in Japan" Quality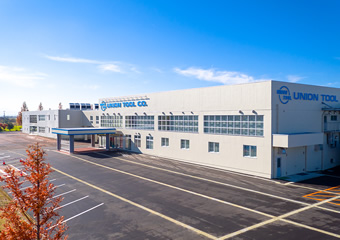 All UNION TOOL's end mills are manufactured at the Mitsuke factory in Niigata prefecture, Japan.
We internally developed grinding and quality control equipment and seamless tip design of our ball end mills was achieved by it. Before shipping more than 10 items of the tools are inspected under the ISO9001:2008 approved quality control process to always guarantee the highest quality.
With assured "Made in Japan" quality, the UNIMAX series will definitely satisfy your demand.