Environmental Report
We set targets and implement activities based on energy saving, recycling, and resource saving, which are key themes of our environmental policy.
As for energy saving, both Nagaoka Factory and Mitsuke Factory are working to improve production efficiency as much as possible although energy usage in our production activities tends to increase year by year as we aim to produce high value-added products.
For recycling, we promote the reuse of product cases. We are conducting this activity by examining a method of approach considering efficiency and profitability in response to the changing circumstances.
For resource saving, we are developing and improving new resource-saving tools and long-life tools through the development of manufacturing equipment and will strive to supply products that are recognized by more customers.

Energy Saving Efforts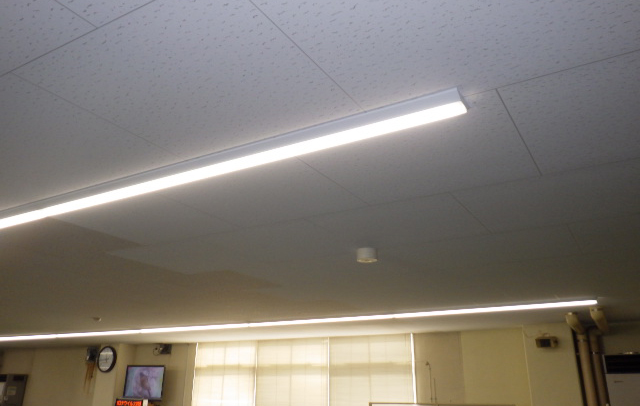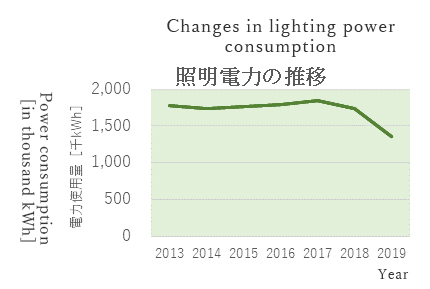 In fiscal 2019, each factory set a target of a "1% reduction of energy consumption from FY2018 level" and conducted energy saving activities to achieve it. As a result of such efforts, Nagaoka Factory reduced the energy consumption by 4.5%, and Mitsuke Factory also achieved a 1.38% reduction of energy consumption from the FY2018 levels, resulting in the achievements of targets in both factories.
Since 2014, LED lighting systems have been introduced in our factories step by step, and Nagaoka Factory is making efforts toward the completion in 2020 in a planned manner, with the priority of floors taken into account. In 2019, approximately 80% of our lighting systems have been replaced with LED in not only manufacturing floors, but also offices, cafeterias, etc.
The energy consumption has been remarkably reduced since 2017, down about 20% from the peak.
In fiscal 2019, we are making efforts for further energy saving by continuing the productivity improvement, which is a never-ending challenge as a manufacturer, while developing highly efficient production equipment by utilizing our engineering capability.
And we will strive to maintain efficient production activities from a broad perspective.
Recycling Efforts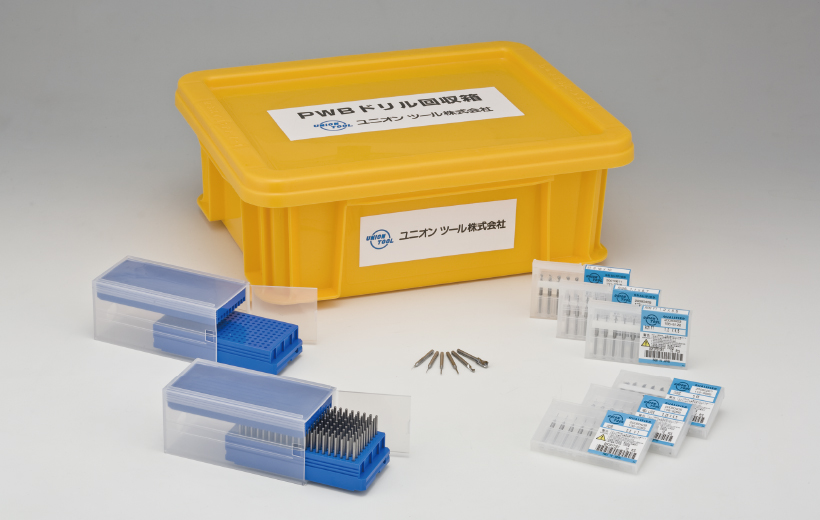 We collect and recycle drill cases.
Originally, it was a part of our in-house recycling operations. However, as its importance increased in our environmental activities year by year, it needed to be considered as a professional activity. For that reason, we have outsourced the drill case collection and recycling operations to a contractor since 2016.
Once the outsourcing started, the operations became different from those of the in-house operations. In order for us to grasp the handling capacity of the recycling contractor, set proper goals according to the capacity, and monitor the progress of recycling, we conducted "investigation and management of collected drill cases" in fiscal 2019.
Although it was found that the annual achievement rate was 90% of the target value for the year, we were able to grasp the current status of recycling operation, which can be used for future improvement.As part of this activity, we hold a monthly meeting of the relevant departments to monitor the status and share information. This is to clarify issues that cannot be expressed by simple numbers and to improve them one by one through discussions.
We believe that the recycling leads to not only an effective use of resources, but also delivery of higher quality and lower price products more quickly to our customers. Considering as one of important operations, we will continue to promote recycling by setting targets. Therefore, it would be highly appreciated if our customers and partners understand such efforts and cooperate in using the drill cases as cleanly as possible so that they can be reused over a longer life cycle.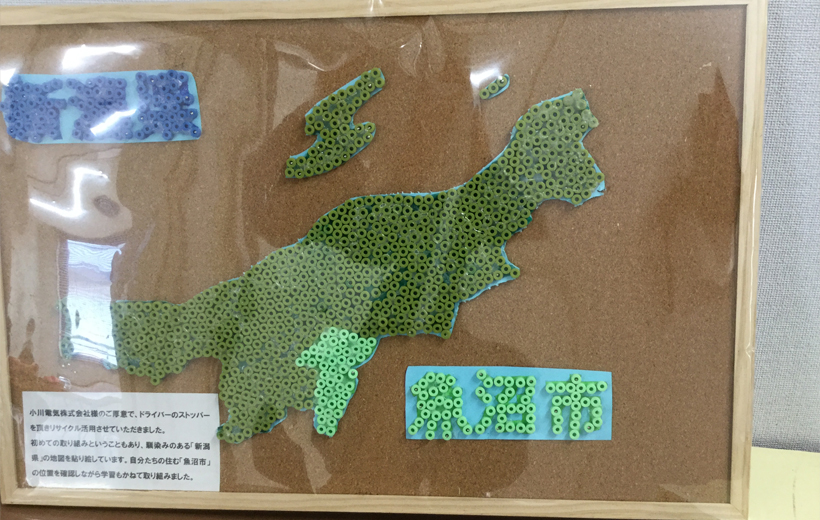 Topics
When PCB drills are used, a part called "drill ring" is sometimes used with them. The used drill rings are provided to a welfare institution, where they are reborn as a beautiful ring art.
Green Procurement Efforts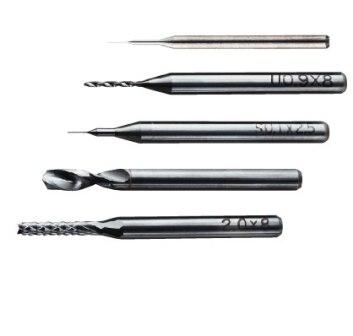 In order to provide customers with products that are friendly to the global environment with less environmental load, we have to actively use eco-friendly materials and parts. To ensure the reliability of our products to customers, we not only comply with the RoHS Directive in Europe and other chemical substance-related regulations increasingly demanded throughout the world, but also follow our Green Procurement Guidelines when purchasing materials and parts.
Information on hazardous substances in products is shared among our Engineering Design Department, Material Purchase Department, and the relevant suppliers, which cooperate with each other to investigate and clarify the contents of environmentally hazardous substances in all materials, parts, packaging materials, etc. used for our cutting tools and linear motion bearings.
We will continue to strive to minimize the environmental burden throughout the product life cycle, ranging from material processing to product use and the end of life.
Therefore, kind understanding and cooperation of our customers and partners would be much appreciated.
Environmental Education Efforts
In our factories, environmental education is provided to employees mainly by the Eco-management Department to raise their environmental awareness and provide the relevant knowledge.
We have four types of educational systems, which are used depending on the purpose. Starting with the "New employee education" provided to new recruits right after their entering our company, we systematically raise the level of education through "General education" conducted on various themes every month, "Basic education" concerning the basic environmental issues and regulations related to business activities, and "Specialized education" covering more specialized environmental education.
In the process of "General education", we conduct a survey of the participants and use the results as a reference for the selection of themes and the upgrading of instructors.
These environmental education programs lead to the development of human resources who maintain our corporate culture of "Love nature, Love people, and Love work".

Collecting used postage stamps
We collect used postage stamps and donate them to "The Defense of Green Earth Foundation (DGEF)",
who then sells these stamps in order to raise money to reforest areas in Asia and Africa.
Other than our employees, shareholders and customers that approve also support us in this activity.